Landscape Design & Construction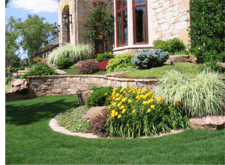 At Affordable Landscape and Tree Service, we understand that there is much more involved in designing a landscape than adding a tree and a few shrubs to your property. We have posses over 25 years of experience in designing custom landscapes throughout the New Haven and Fairfield County areas. We will work closely with you to take your ideas and vision combined with our experience and knowledge to develop and outdoor living space that will best suit your requirements and increase the market value of your home or commercial business. We are capable of developing a small portion of your property or the entire area into the landscape of your dreams.

Our team of highly qualified and experienced landscape technicians are very detailed oriented and will work from concept to completion to create a beautiful and functional landscape that will create many years of pleasure for you and your family. If you are looking to install trees or shrubs in order to create additional privacy, we can help you select the plants that will be best suited for your property and strategically position them so they can be best utilized for that purpose.

Whether you would like to design and install an entirely new landscape or outdoor living area from scratch, or you would like to perform enhancements to your existing landscape, Affordable Landscape and Tree Service are capable of assisting you. We have been providing landscape design and construction services for residential and commercial property owners throughout the Connecticut area for almost three decades and we consider ourselves to be a full-service landscape design and construction company.

Our custom landscape design services encompass many different components such as tree plantings, outdoor gardens, landscape construction, outdoor lighting, patios, walkways, driveways, stamped concrete, retaining walls, decorative stone walls, fencing, raised terraces, outdoor kitchens and fire pits and much more. We will approach each project we take on with the same amount of dedication and planning in order to take make your vision a reality.

Please click here to view some of our recent landscape design projects. If you are interested in hiring an affordable and experienced landscape contractor to perform landscape installation and upgrades to your property, do not hesitate to reach us at 203-287-8894 for a free consultation and estimate.