Tree Removal & Excavation Service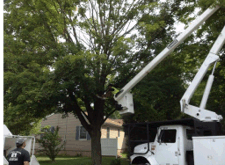 If you have a tree on your property that needs to be removed, Affordable Landscape and Tree Service of Hamden, CT can assist you. We have the experience and machinery to safely and securely remove trees of all sizes and scope. We have been hired to remove some of the largest trees in the Connecticut region and have been providing emergency tree removal services to property owners throughout the New Haven area and beyond for over 25 years.

You can contact us for a free consolation and a tree expert will be dispatched to your property to give you a free consultation and pricing for the project. During our consultation, we will give you a detailed proposal that will ensure that the tree removal project is finished in a safe and timely manner, as well as within your desired budget. We have gained a reputation in the area for providing an honest, affordable, and efficient service to our clients. We are fully licensed and insured in the state of Connecticut.

We also offer 24/7 emergency tree removal services. The weather patterns in Connecticut can often be severe and unpredictable and heavy storms can cause significant damage to the structure of your home as well as the surrounding areas. When a large tree has fallen on your property, the heavy weight and circumstances of the fallen tree can create a dangerous environment for the inhabitants of your home or commercial facility. If you are in the midst of a tree emergency, you can reach us directly at 203-214-9216 during any time of the day or night and we will dispatch a tree removal professional to your property immoderately to mitigate the damages to your property.

Removing a tree from your property can be a complex process depending on the size and location of the tree. Affordable Landscape and Tree service has the knowledge and professional experience to safely and efficiently remove the tree from your property and ensure that your landscape receives minimal damages. Once the tree has been securely removed from your property, we will ensure that your landscape is thoroughly cleaned and all remaining debris is removed. Our professional tree stump grinding and removal and lawn care service will remove any traces that the tree ever existed on your property.